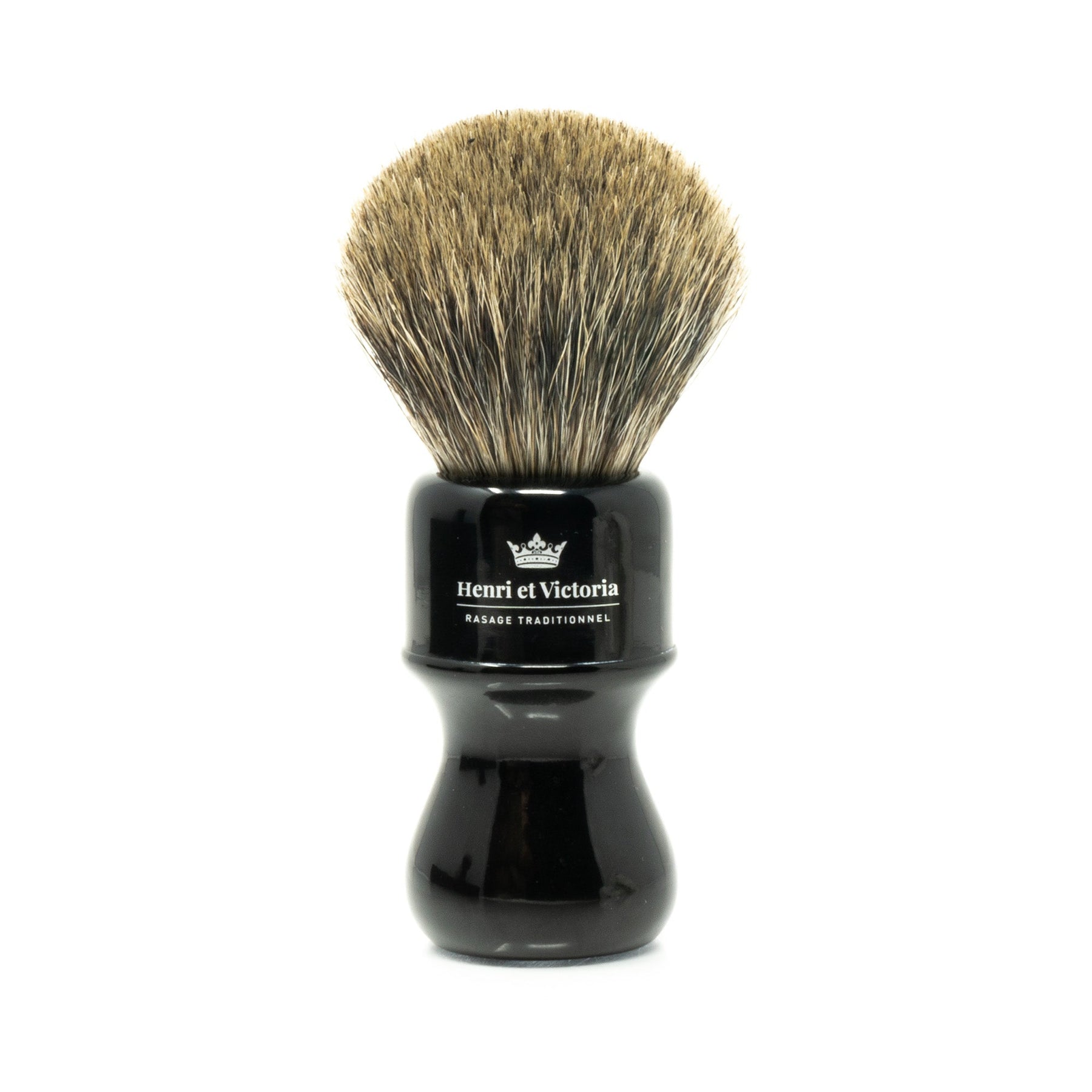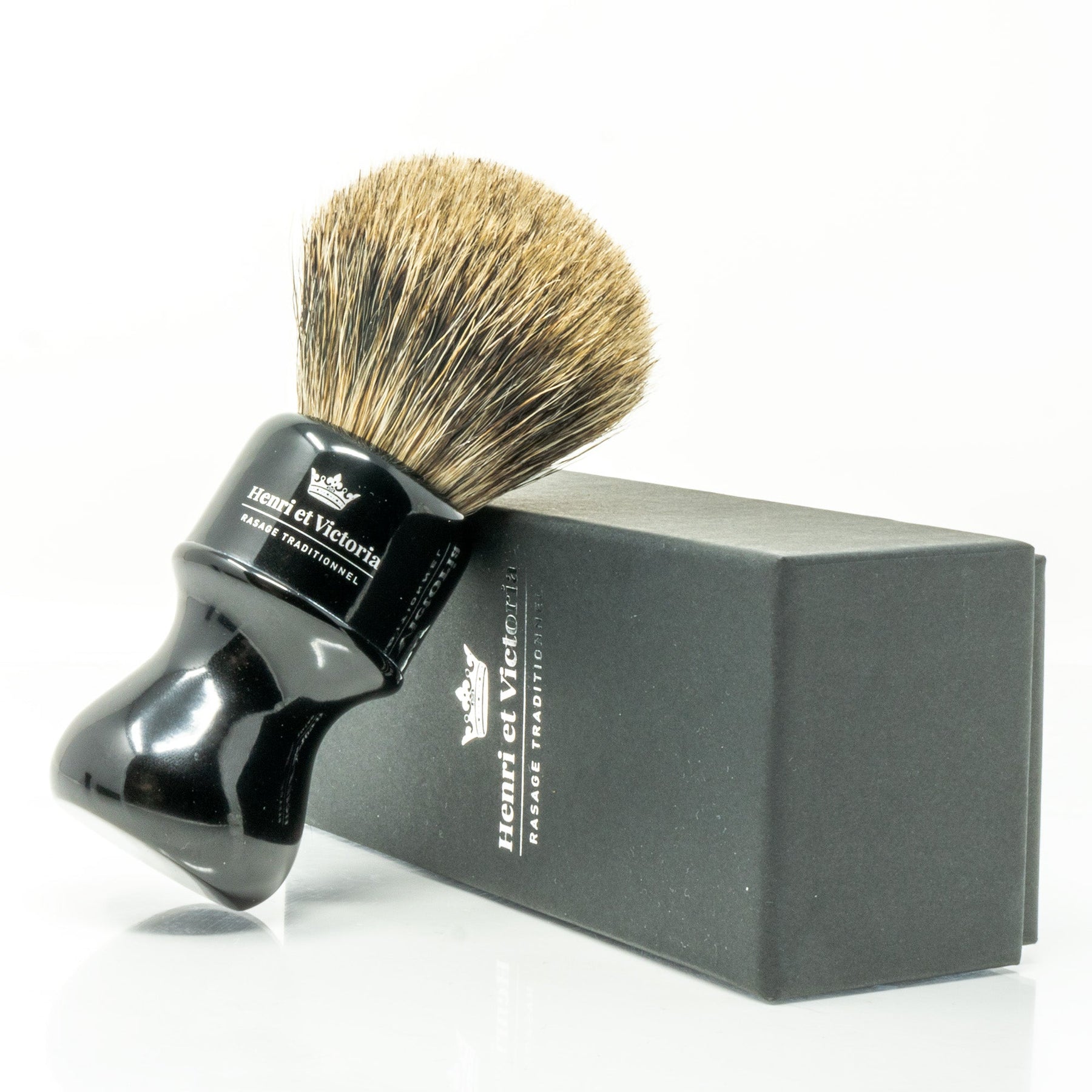 The Crown Pure Badger Shaving Brush
Pickup available at Shop Auguste Mondoux
Usually ready in 24 hours
The Crown Pure Badger Shaving Brush
Shop Auguste Mondoux
Pickup available, usually ready in 24 hours
670 Rue Auguste Mondoux
6
Gatineau QC J9J 3K3
Canada
+18193284071
Introducing the Crown Pure Badger Shaving Brush by Henri et Victoria, an exquisite grooming accessory designed to elevate your shaving experience. Meticulously crafted with attention to detail, this brush combines the finest pure badger hair with a beautifully designed resin handle, ensuring optimal performance and luxury.
The Crown Pure Badger Shaving Brush features a knot made from premium pure badger hair, known for its exceptional water retention and lathering properties. The 24mm (+/-1mm) knot diameter strikes the perfect balance between firmness and softness, allowing for efficient lathering and a gentle exfoliating experience, leaving your skin feeling refreshed and invigorated.
With a loft size of 46mm (+/-1mm), this brush provides just the right amount of hair to hold water and create a rich, creamy lather effortlessly. The carefully chosen loft size ensures that the brush produces an ample amount of lather for a smooth and comfortable shave, reducing the need for frequent reapplication.
The Crown Pure Badger Shaving Brush is complemented by a thoughtfully designed resin handle that exudes elegance and offers a comfortable grip. Standing at a height of 66mm (+/-1mm), the handle provides excellent control and maneuverability, allowing you to navigate the contours of your face with precision and ease.
Measuring at its widest diameter of 39mm (+/-1mm), the handle offers a secure and ergonomic grip, preventing slippage during use and allowing you to maintain complete control over your shaving routine.
Whether you are a seasoned wet shaver or new to the art of traditional grooming, the Crown Pure Badger Shaving Brush by Henri et Victoria showcases exceptional craftsmanship and functionality. Embrace the ritual of a classic wet shave and indulge in the superior performance, durability, and timeless elegance that this outstanding shaving brush delivers.
Cognac and Cuban Cigars - Close your eyes, savor the smell, and let it linger for just a moment longer; you have arrived in Cuba. Imagine the pleasure of an afternoon game of poker, lounging around while smoking cigars and sipping on a fine fresh cognac. This defines masculinity with its rich aroma that combines sweet cognac coupled with an aromatic, subtle cool smoky charm. Scent Profile: Cedarwood, Fresh Leather, Zesty Lemon, Cognac, Spicy Tobacco
Duc de Santal - Sit back and savor the musky, woody aromas that form part of this warm and comforting scent. Sophistication in every sense of the word, Duc de Santal defines notability and a sense of good taste and high-class styling of the upper echelons of society. Scent Profile: Sandalwood, Spicy Nutmeg, Tree Moss, Lemon Citrus, Exotic Patchouli Oil
Bay Rum - A masculine fragrance inspired by island flavors. Savor the distinctive sweet and spicy scent that is Bay Rum which will give you a warm, summer feeling year-round. Enjoy the calming flavors of Bay Rum without an overpowering undertone of Cloves. Scent Profile: Ozone, Jasmine, Fennel, Flower Extracts, Vanilla, Rum
Absinthe - Dangerously addictive, in all the right ways. This highly aromatic scent brings Absinthe to life with a sugar cube and several other delectable herby delights. It is crisp, and it knows how to make an impact. Let yourself be tempted by this little mischievous Green Fairy that epitomizes envy and endeavors to defy. Scent Profile: Anise, Juniper, Spice, Citrus, Wormwood
La Poire Française - This is a celebration of a sophisticated summertime. It is sweet and mellow, laid-back and refined. It touches on the softer side of life, one that is both gentle and a gentleman at the same time. La Poire Française is mysterious, light, and airy. Scent Profile: Ripened Pear, Smokey Guaiac Wood, Flower Extracts
Lime - Gorgeous lime, open and clear smell, combined with fresh bergamot. A modern fresh amber with deep, warm, and musky tones. With a base note of rich, sophisticated, and creamy sandalwood. This creates an open fresh top note with a deep rich and warm base note that will keep it special all day long. With Lime Butter. Scent Profile: Sandalwood, Spicy Nutmeg, Tree Moss, Lemon Citrus, Exotic Patchouli Oil
Coeur de Vetiver - A fresh fragrance with predominant bergamot notes, a touch of lavender and a sprig of pepper, which is brought back to earth with floral notes of neroli and cedar, all on a captivating background of vetiver with a hint of vanilla. Scent Profile: Bergamot Notes, Lavender, Pepper, Vanilla, Earthy Notes
Deuce - Inspired by the need for distinguished athletes to stay cool and alert, even when the game is intense. Scent Profile: Citrus Lime, Middles Notes of Lavender, Aquatic Floral
Navigateur
Top Notes- Lemon, Ocean, Green
Middle Notes- Soft Floral, Lavender, Melon
Bottom Notes- Musk, Pine, Woody
Kraken
Top Notes- Citrus, Fruity, Bergamot
Middle Notes- Spice, Rose, Fresh Air
Bottom Notes- Woods, Lavender, Jasmine

How we are different?
Henri et Victoria in a range of sophisticated scents that advocate self-care in its finest form. We advocate the tradition of shaving and are on a mission to convert as many men as we can back to wet or traditional shaving regimes.
We produce unique and soothing artisanal aftershave balms (along with many other products) purpose-made for men, in a range of eccentric scents that advocate eccentricity in its finest form.